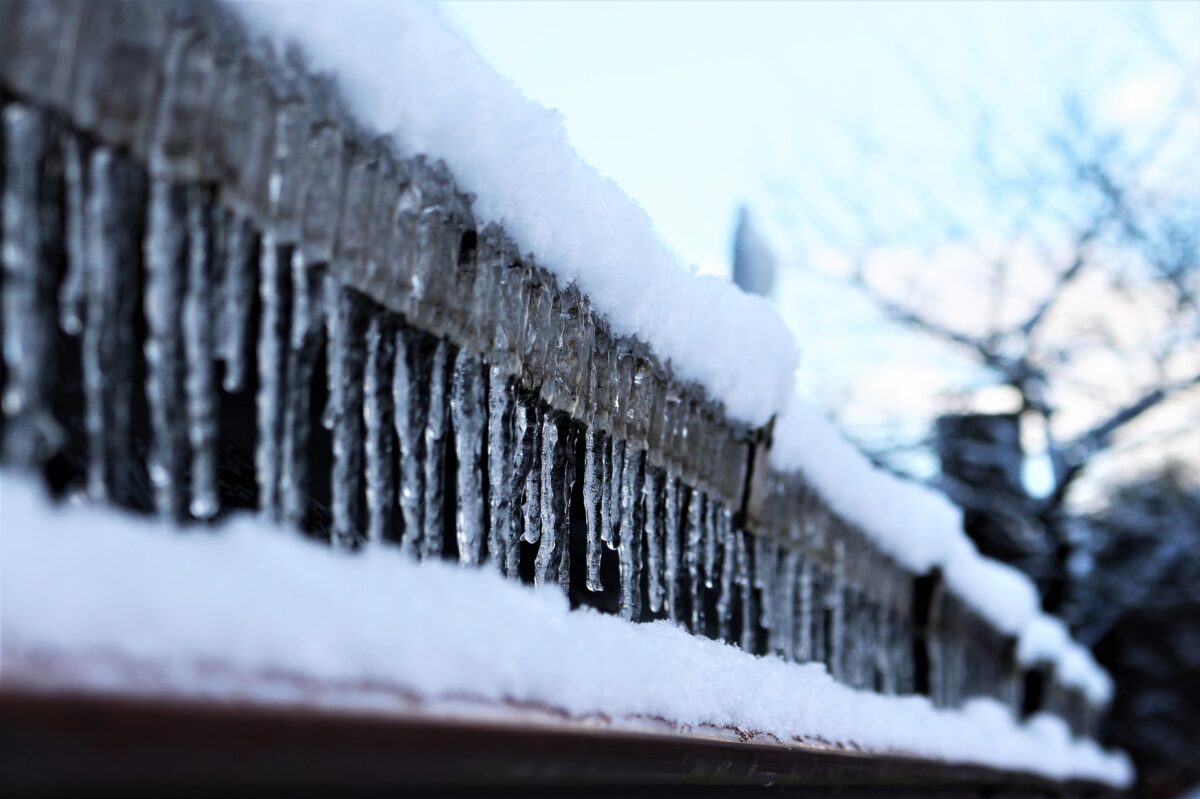 Guest article from karenboos.com

It's that time of year again. Time to start getting used to colder weather, pumpkin spice lattes, and fewer hours of sunlight. It's officially fall and that means that winter is just around the corner. In many places across the U.S. this year, it's going to be a doozy. Why not make sure that your house is taken care of this winter by putting in a little elbow grease right now before it gets too cold and snowy? Winterizing your home can help you out in two major ways. First, it saves you money by helping to lower your heating bills and second, it helps save you time by checking a few small things off the list now to prevent a much larger disaster in the future. Who doesn't love saving time and money? Let's get started.
Blow Out Your Sprinklers
Many people might think that this isn't necessarily a DIY task, but it really is and can be completed in most homes in under 30 minutes. You'll definitely need your own air compressor, or borrow a neighbor's, but it can be done with a simple one like this 6 gallon compressor available for under $99 bucks. Alternatively, you can also rent one from an equipment rental store for about $15 per day. Your sprinkler system may vary, but you typically just open the flood valves on your system, attach the compressor hose via a specialized coupling, and then flip the compressor on. As it blows water out, you'll want to cycle between sprinkler stations in order to get every station cleared out.

Replace The Air Filters In Your Furnace
You should be doing this every quarter anyway, but it definitely is best to do it in the early fall so that you'll have clean and functional filters all winter long. If you or someone in your house suffers from seasonal allergies, then this is doubly important because we tend to spend so much more time indoors during the winter.

Clean (All Of) Your Gutters
This is not as fun or clean as the other winterization tasks, but it is almost the most important one. If you don't clean out your gutters now, it may be near impossible to do so once it starts freezing each night and morning. Make sure that all of your home's gutters are clean and free of debris because that can lead to dangerous (and expensive) ice dams during the winter months.

While you're at it, this is a good time to check out your soffit vents while you're up there. Inspect each one to see if it is loose or damaged. If you don't have adequate ventilation through your attic, you could be trapping warm air and moisture in there which can lead to water damage and mold. If you need high quality professional grade soffit vents, they can be found here.

Install A Smart Thermostat
For a small investment up front you can save many times that in future heating and cooling bills. A smart thermostat will heat and cool your home as efficiently as possible and will make your job of regulating the home's temperature a snap because you can set and change the temperature from your smartphone or from any smart device like an Amazon Alexa or Google Home. Isn't the future great? Check out the EcoBee Smart Thermostat or the Google Nest.

Flush Your Water Heater
We don't think of it often, but your water heater is one of the most cost effective things in your house to take care of. If it isn't flushed regularly, it can waste money and time by taking too long to heat your home's water. During the winter, you're going to need a lot of warm and hot water, so this is a great thing to do before the temperatures start plunging. Here is a great guide to get you started.

One Last Thing: Check Your Windows And Doors For Drafts
Take a few moments to check the seal on all of your doors and windows to make sure that they are properly sealing your house from the harsh and cold outside air. If you feel drafts or see gaps, then it may be time to put a little calk around your windows or to install draft guards around your doors.
Photo via Pixabay