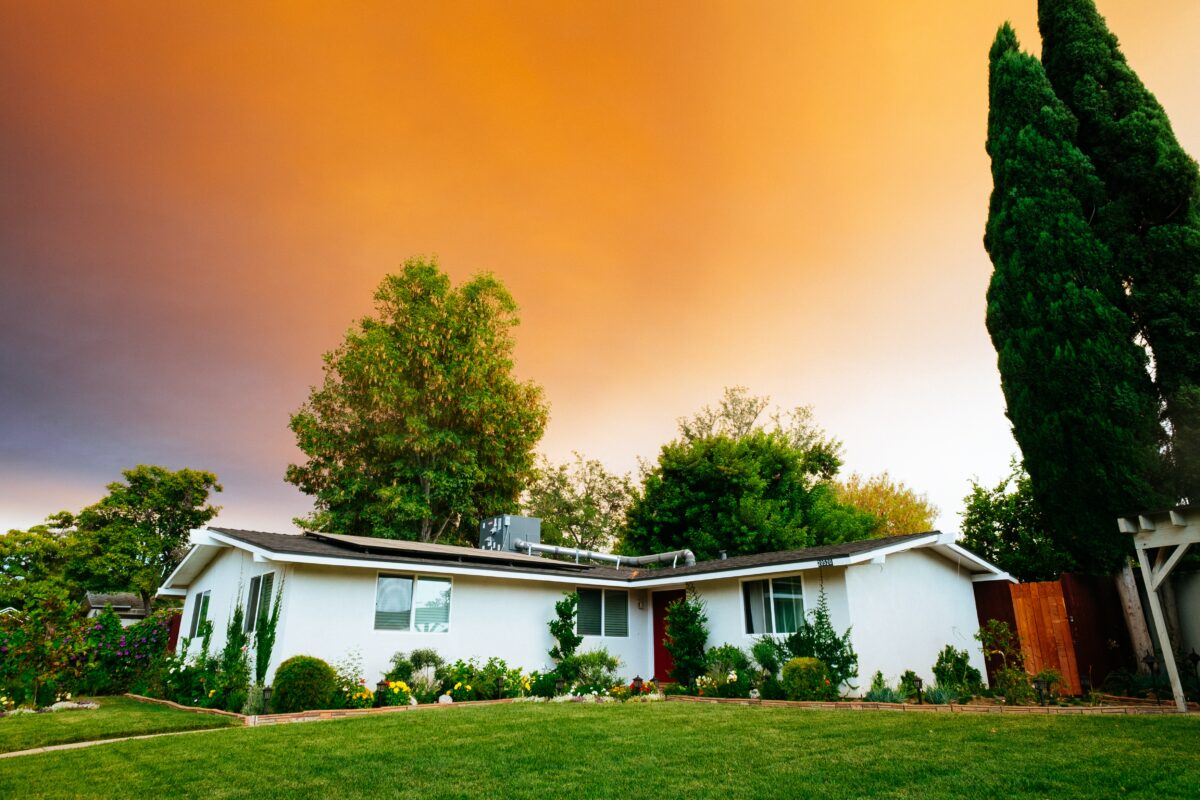 When it comes to grabbing the attention of serious home buyers, your home's exterior is just as important as the interior. When buyers first see your home, even before they step out of their car, you'll want them to be impressed. As they scroll through online house listings, you'll want your home photos to leave potential buyers feeling intrigued. Otherwise, they won't be sold on the inside of the home, no matter how amazing it is. That's why curb appeal is considered to be one of the most crucial home staging tasks.
Luckily, it can also be easy and surprisingly affordable to spruce up your home's exterior! Here's how:
Paint the Front Door
The front door is like a welcome mat to your home. A front door that is old, damaged or dingy does not feel very welcoming. Fortunately, it's pretty simple and budget-friendly to give any front door a facelift.
Update your doors with a splash of

paint

to cover any knicks, dings, chips and peeling paint.

Look at the color trends. Many homebuyers love a

bold red or blue door

with flower pots or other decor nearby.

Add a smart doorbell with a camera to impress house hunters with extra security features.
Add Color With Flowers
Flowers add personality to your yard, making a home's exterior literally come alive. Fortunately, you don't have to create new spaces for flower beds. Most front yards already have areas that are naturally well-suited for inexpensive flower beds. For instance, you might plant a flower garden:
In a ring around the base of a tree.

Lining paths and walkways.

In front of porches.

Around shrubs and bushes.

In flower boxes under windows.
Use Mulch in Your Flower Beds
Mulch keeps moisture in the soil, suppresses weeds and cools the ground during hot, humid weather. However, mulch also has another important function: it can seriously enhance your curb appeal. Here are some benefits of mulching around your home:
Adding

color

to your yard. Black mulch will make green plants stand out, while brown complements exteriors with red brick. Homes with soft, neutral tones often see improved curb appeal with red mulch.

Bringing in depth:

Adding mulch

can make your yard look larger and fuller by creating depth and dimension to gardens, flower beds and other areas.

Creating neatness: Mulch in flower beds that line walkways, circle around trees and in front of porches help your yard look like it was designed by a professional landscaper.
Keep Your Lawn and Shrubs Trim
Simply maintaining your lawn on a regular basis can do wonders for curb appeal. If you aren't living in the home, it can be easy to forget or fall behind on this kind of maintenance. However, routine maintenance is essential if you want to get your asking price.
Mow the lawn regularly.

Rake leaves and remove fallen limbs and other debris.

Pull weeds.

Clean gutters.
Update Your Mailbox and Address
Were your mailbox and address numbers hung the day the house was constructed? Depending upon the age of your home, chances are high that a few styles have changed since then. You'd be amazed at what a big improvement these two small changes can make!
Update address numbers: Switch out those cursive black numbers that date back to 1975 with fresh, stylish modern numbers. Many

house hunters

say they are drawn to monochromatic, sans serif numbers.

Install a new mailbox: Replace a damaged, broken or unappealing

mailbox

with one that is new, functional and fun. It may seem like an unimportant detail, but it really is a simple change that can add significantly to your overall aesthetic.
However much effort you need and want to put into your home, curb appeal will have far-reaching effects on your home's appearance and interest. Find what works for your area, home and interests. Be sure to start sooner than later to create a gorgeous space that's inviting and exciting!