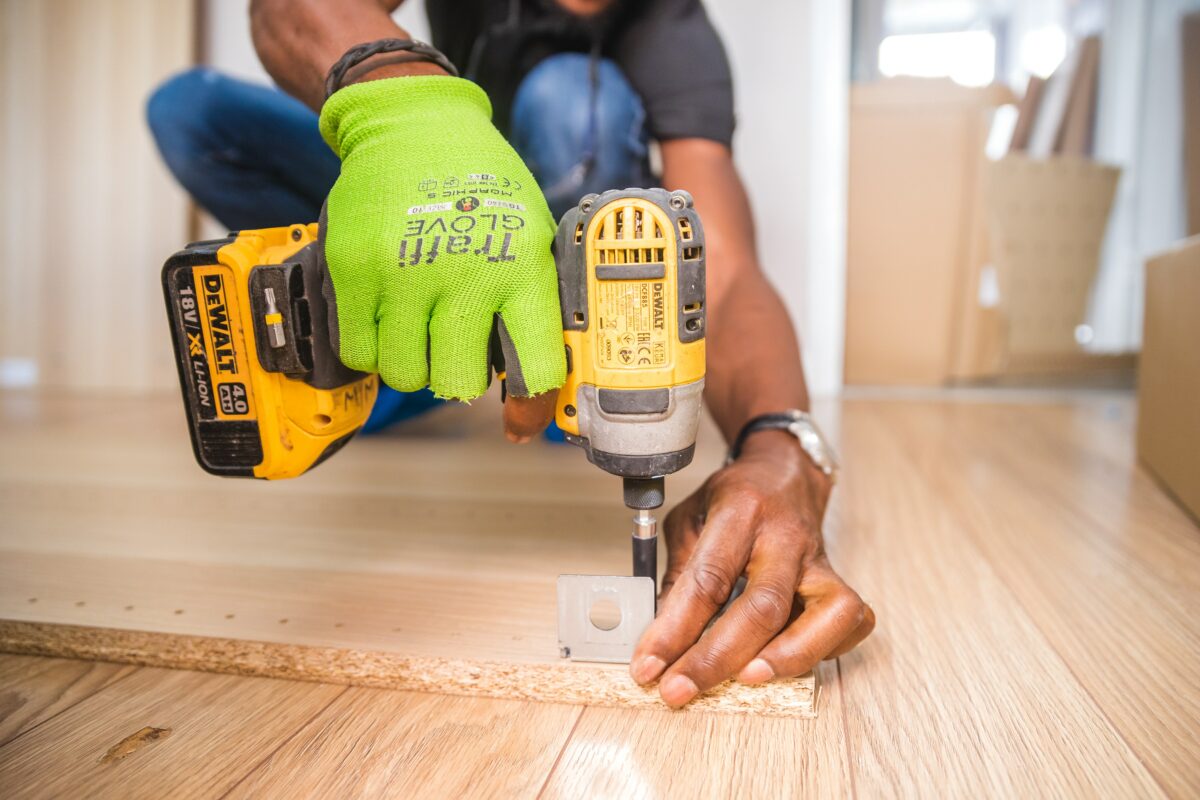 There are many reasons why the housing market shifts. In some ways, it's as simple as supply and demand. Other times, situations that are completely outside of our control, like the novel coronavirus, unexpectedly turn the marketupside down.
If you plan on selling your home in the upcoming months, now is a perfect time to take care of any home renovations you've been putting off. For any DIYers who are nowworking from home or taking leave, why not dedicate more time to your home projects?
Whether you decide to sell, rent or refinance your home, here are the top do-it-yourself home renovations to help you boost your home value.
Paint Your Front Door
A fresh coat of paint of the front door is a simple, yet effective way to enhance your home's curb appeal. Go with a bold or striking color to complement the color and style of your exterior. Update your address numbers and mailbox, especially if those are near the front door, to provide a cohesive look across your entryway.
Finish the Basement
Renovating a basement can be a great way to boost the resale or rent value of a smaller home. You can market a two-bedroom as a three-bedroom or consider it a bonus room, which adds to the square footage. Finishing a basement isn't a simple DIY project, but it's totally doable for those with the right tools and a bit of experience.
Keep Up with the Landscaping
At the bare minimum, keep the yard mowed regularly and your trees and shrubs trimmed. A tidy yard can be just as appealing as an elaborately landscaped one. There are many easy ideas that can make a big splash, like adding pops of color with flower pots or spreading mulch and planting flowers around the base of trees and next to walkways.
Design Inviting Outdoor Spaces
People love to gather in outdoor living spaces. Something about the vast sky as your roof really invites both intimacy and group gatherings. Invest in designing an outdoor area with a fire pit or oven on a patio with string lights and bold flowers. Home buyers will easily be able to see themselves enjoying a warm spring night outside their new home.
Update the Kitchen
Outdated kitchens are one of the leading turn offs according to home buyers. There are many simple ways you can modernize your kitchen. Painting the cabinets and adding new hardware can make a big difference. To really maximize your return of investment (ROI), consider upgrading all the appliances. To really make a difference replace old flooring and update countertop surfaces.
Makeover the Master Bath
The allure of the master bath is very strong. It's seen as a place of privacy and relaxation. Upgrade your master bath by first updating all your faucets and fixtures. Consider installing a newer sink —vessel sinks and troughs are a big fan favorite — and removing any dated wallpaper, flooring or paint schemes.
Create a Home Office
More and more Americans were already working from home, even before the isolation we've endured with the coronavirus pandemic. A home office could be a great project for you right now, especially if you'll be working from home for the next few months. Converting a spare room into an office helps create defined lines between work and home. Try to use a room that gets a lot of natural light. Create a layout that prioritizes function, while decorating in a way that inspires.
Renovating your home can increase the property value and make it easier to sell or rent. The changes, upgrades, and repairs you make today might come in handy during the uncertain housing market we suddenly find ourselves in. Be sure you feel comfortable before you tackle a major DIY renovation. Consider the time and cost commitment you'll be making. Once you are ready, you can really transform the way your whole house feels — even if you only renovate one area.
Photo: Pexels